Black 4 hosted by Luxury Abstract Wheels / Liberty VIP
This was announced a few days ago.  Here is the post from our forums in regards to Black 4 from Widebody Q.
This year we are doing it indoors and teaming up with Tuner-Evolution. There are two 75,000 square feet rooms in the Expo center with 8 huge garage doors in between. The doors will be open allowing people to go in and out of both events (Black 4 and Tuner Evolution). All cars who look to participate must pre-register and wait to see if the cars were selected.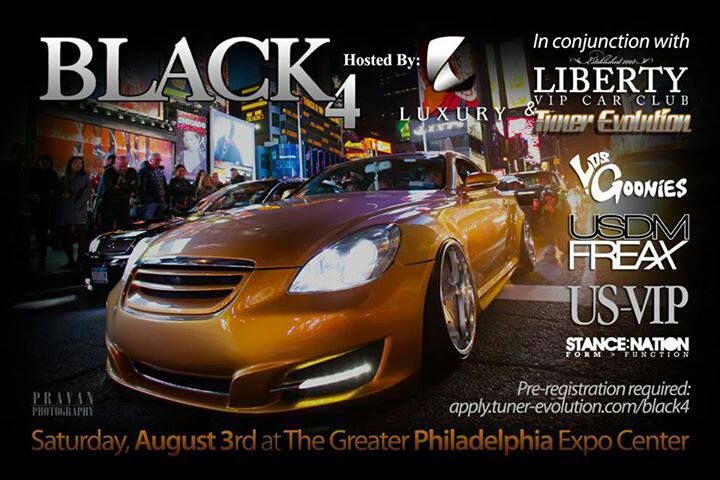 apply.tuner-evolution.com/black4
BLACK 4 presented by Luxury Abstract and Liberty VIP
Saturday August 3rd,
Greater Philadelphia Expo Center in the Oaks
Only VIP style and modified Luxury cars are allowed to enter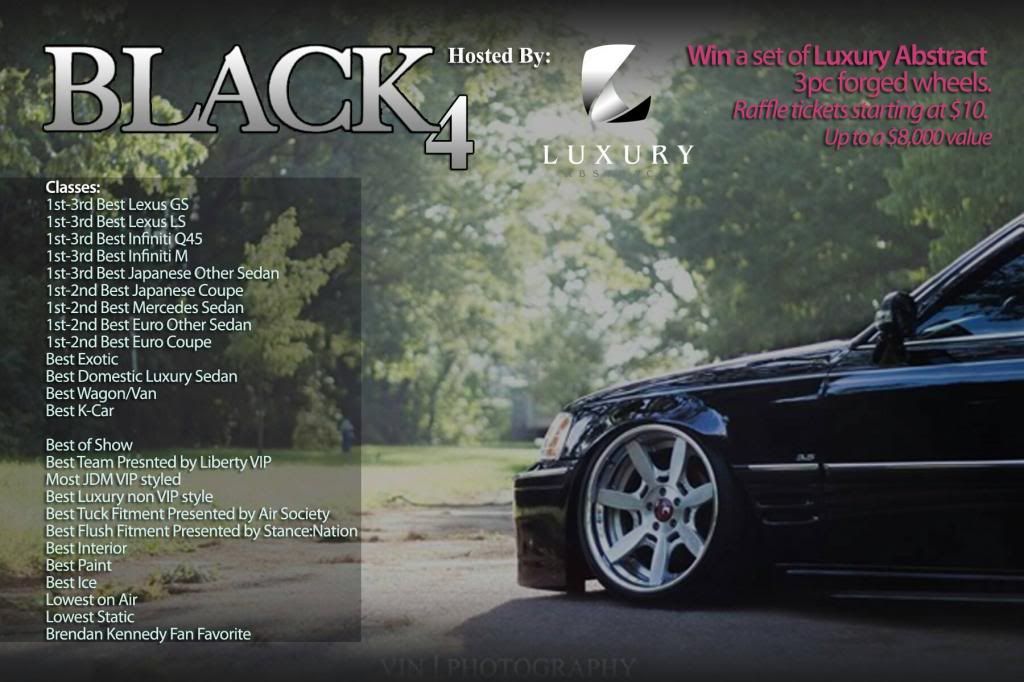 Classes Include:
1st-3rd Best Lexus LS
1st-3rd Best Lexus GS
1st-3rd Best Infiniti Q45
1st-3rd Best Infiniti M
1st-3rd Best Japanese Other Sedan
1st-2nd Best Mercedes Sedan
1st-2nd Best Euro Other Luxury Sedan
1st-2nd Best Euro Luxury Coupe
1st-2nd Best Japanese Luxury Coupe
Best Exotic
Best Domestic Luxury Sedan
Best Asian other Luxury Sedan
Best Wagon/Van
Best K-car
Specialty Awards:
Best of Show Presented by Luxury Abstract
Best Team Presented by Liberty VIP
Best Luxury Non VIP style
Best Tucked Fitment Presented by Air Society
Best Flush Fitment Presented by Stance:Nation
Best Interior
Best Paint
Best I.C.E.
Most JDM VIP Styled
Lowest Static
Lowest on Air
Brendan Kennedy Fan Favorite
apply.tuner-evolution.com/black4
Special Thanks
Liberty VIP
Team ISO
Vip'd Out
Futura Design
US VIP Magazine
USDM FREAX magazine
PAS magazine
StanceNation
Air Society
Los Gonnies
JDM Chicago
Magazine coverage from US VIP magazine in Japan! They are flying out to this event. Also PAS will be doing their coverage. Stance Nation as usual will be giving out an award and posting up pics